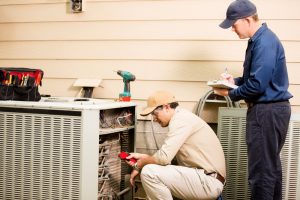 The calendar says that summer is in full swing, but Calgary has never been known to abide by the rules. It's still a little cool over here in our neck of the woods, but the weather is sure to warm up soon. Now is the right time for you to start thinking about the quality of your air conditioner if you haven't already done so. An air conditioning tune-up is the best way for you to get your air conditioner ready for the summer.
Annual air conditioning maintenance is the key difference between a great air conditioning system and a unit that causes constant trouble. If you want a cool, efficient, and headache free summer with the AC unit in your home it's time to contact our team for air conditioning maintenance in Calgary, AB.
How Maintenance Helps Your System
Maintenance helps your air conditioning system thrive in a variety of ways including:
It Helps You Save Money Short Term
We hear a lot of homeowners characterize air conditioning maintenance services as an unnecessary expense. We understand this sentiment—maintenance seems a little unnecessary when your air conditioner seems to work just fine. The fact of the matter is that your air conditioner drops 5% in efficiency for every year that it goes without maintenance.
You might look at the 5% statistics and think that procrastination isn't too bad, but those numbers really add up. Your unit's performance will diminish over time. Scheduling regular maintenance for your air conditioning system can help you save up to 25% on your energy bill. If you really want to boost the efficiency of your AC system, make sure that you contact a professional.
It Helps You Save Money Long Term
Air conditioning maintenance helps you extend your long-term savings too. Maintenance reduces the chances of your unit breaking down or wearing down too quickly. You'll save money on your monthly bills because your system is so efficient, and additionally, scheduled maintenance will greatly reduce the likelihood that your system will need expensive part replacement services. Our technicians spend an extensive amount of time cleaning accumulated debris, dirt, clogs, and ensuring that all your parts are in working order.
It Increases Your Comfort
It's clear that maintenance services will help you save money, but they'll also help you keep your home incredibly comfortable. Maintenance gives you peace of mine because it ensures that your air conditioner is reliable. You won't have to worry about an unexpected breakdown that will leave you hot and sweaty in the middle of a mid-summer heat wave. Maintenance also gives you tangible comfort because it recalibrates all your moving parts. It brings your efficiency to its highest levels possible giving you more cooling power for less money.
Scheduled maintenance should never be missed. This is the perfect time of year to have one of our professionals take a look at your system. We'll help you stay cool and avoid any unnecessary and inconvenient repair services.
Contact Ace Plumbing for all your air conditioning needs this summer.